Great news! You are just moments away from claiming your own FREE 300-plus-page copy of
The Secrets of Underground Medicine
Plus your FREE BONUS report:
Beat the System: How to Survive a Hospital Stay
Both of these life-saving gifts are yours FREE… just for giving our Natural Health Response newsletter a try today.
If at any time you're not 100% satisfied with Natural Health Response, you can cancel for a full refund. No questions asked. And you always keep your free gifts, with our compliments.
You'll also get free access to Natural Health Today – our daily email updates, as well as special insider-only advisories, promotions, and health alerts.
Simply fill out your information below and we'll rush you your complete free gift package.
Step #1: Choose Your Subscription
Limited Time Offer: Order in the next 7 minutes and receive an extra FREE gift!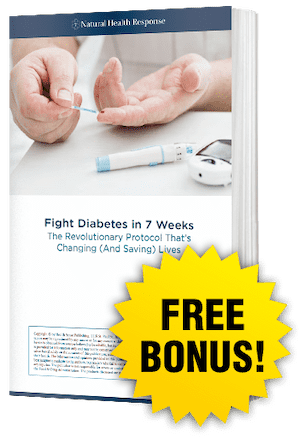 Please add the bonus report, "Fight Diabetes in 7 Weeks" to my order… absolutely free.
Type 2 diabetes is an epidemic, but this report reveals the revolutionary tips that are changing (and saving) lives. In this crucial report, you'll learn about the Miracle Foods for shedding pounds and slashing high blood sugar, the secret lifestyle changes you can make to help fight your type 2 diabetes, and so much more…
(Please check the box to add this bonus e-book to your order, free with our compliments.)
Step #2: Enter Your Name & Email
*International Customers: Please note, we do not ship outside the United States. When you subscribe, you will be sent login information to access your reports online.
Please note: By selecting this offer, you are enrolled in our Preferred Subscriber Benefits Program. This guarantees you receive continuous service and never miss one of Dr. Gerhauser's life-changing discoveries. After your initial subscription term is complete, your credit card (sorry, we cannot accept debit cards at this time) will be billed the same rate you paid today, and you'll continue to receive all of the benefits of your Natural Health Response subscription without interruption. There is no obligation; if for any reason you wish to cancel your subscription, at ANY TIME, we will send all of your money back for the current 12-month subscription term and you get to KEEP YOUR FREE GIFTS.
Payment Options